Drama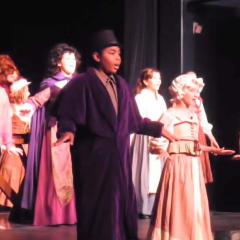 The Drama program provides students with opportunities to gain confidence and build collaboration, public speaking, and social interaction skills as they develop a solid foundation in the theater arts. Through after school activities, students cover the California State Standards for theater education, and learn the basics of the stage, character development, and improvisational and performance skills, as well as to analyze and critique a wide variety of dramatic genres. Each year we have a theatrical production open for grades 3rd-5th. 
The 2015-2016 production is Disney's Cinderella.
Auditions: January 25th at

2:35pm

in the Cafeteria. 

2016 Performances: 7 p.m. on March 31 & April

1, ;

and 2 p.m. on April 2, 2016. 

Tickets: Sold at

www.seatyourself.biz,

starting March 17, 2016, and at the door just prior to the show.