Academics
Distance Learning Expectations
Students and staff will receive and agree to clear guidelines and expectations for technology use and behavior in distance learning on the days students are not on campus.
No live lessons will be recorded by the student.
Students will turn their camera on at the beginning of the class and will leave it on throughout the lesson unless the student has reached an agreement with the teacher to support individual needs. Students will only use their correct name when logging into online tools such as Zoom.
Parents will not participate in the class and will not interact with other students or staff during the class. Any concerns will be addressed with the teacher outside of the instructional period.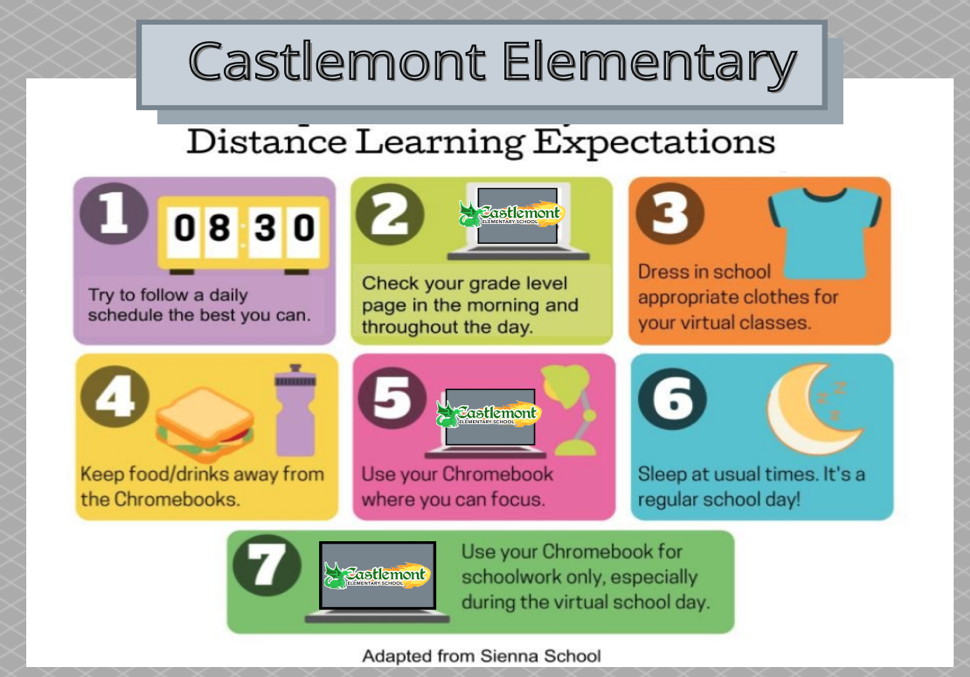 Getting Ready for Your Class Meeting
(From Fisher, Frey, Hattie The Distance Learning Playbook, Grades K-12, Teaching for Engagement and Impact in Any Setting)
Make sure you have completed the pre-class preparation activity so that you'll be ready to learn!
Think about your goals for learning today. What do you want to achieve?
Work with your family to find a quiet space that won't disturb other people in your house and won't distract you from learning.
Prepare your learning space. Make sure you have a clear workspace to write and store your materials.
If there are items that have personal information you wouldn't want other people to see, move them out of camera range.
Check your lighting so that your classmates can see you.
During Class Meetings
(From Fisher, Frey, Hattie The Distance Learning Playbook, Grades K-12, Teaching for Engagement and Impact in Any Setting)
Ask clarifying questions so you fully understand the learning intentions and success criteria for the lesson.
Listen carefully to others and ask good questions!
Let your classmates know when you agree or disagree with them by _________. (teacher decides how this is done)
Let your class know you have something to say by _______. (teacher decides how this is done)
When you are not speaking, mute your microphone. It helps other people hear.
Turn off notifications from email and social media so you aren't distracted.
If you have a smartphone, shut it down so you aren't distracted.
Video Conferencing Guidelines
Students and staff should be dressed appropriately for school.

Classroom etiquette is expected. Parents and siblings should not participate in the video conference. Schools will be following typical procedures if a parent or guardian would like to meet with a teacher.

Teachers will communicate expectations and norms just as they would for in person classroom behaviors expectations. See Education Code referenced above.

Consistent with Education Code section 51512, the unauthorized use of listening or recording devices in any classroom, which shall include online classrooms, without the prior consent of the teacher and the principal of the school is prohibited. Students may not record (screen shot, live capture, etc.) to share the online classroom and share it via social media or other methods. All discipline procedures apply to the distance learning classroom.