Message from the Principal 11/19/20
Ms. Prindle shares current and upcoming news and events.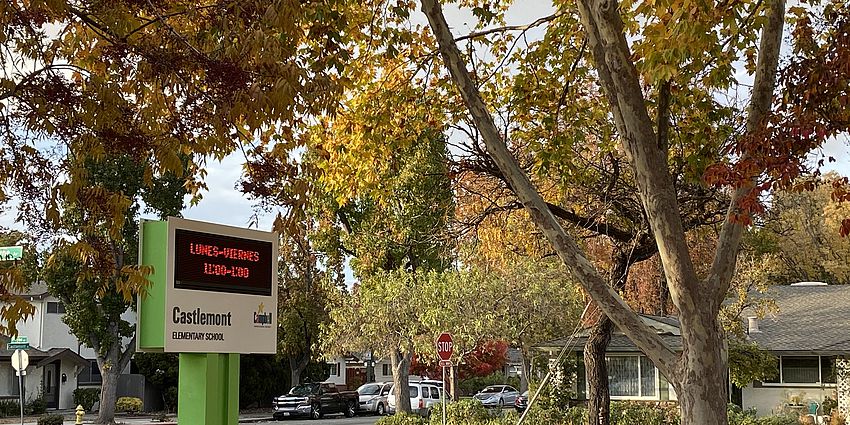 Hello Castlemont Families,
Typically, this is the time of year when I stop to think of all of the things for which I am grateful.  I thought that this might be much more difficult this year given the pandemic and its effect on my personal and professional life-- you may be able to relate; however, I was mistaken.  I have many things to feel gratitude for-- being "forced" to spend more time outdoors; the creativity I see and experience in staying connected with others; and the time and opportunity to visit many more of you at your homes. I hope you are able to find reasons to give thanks also.
One of the things that is challenging in our current situation is living in ambiguity and ever-changing circumstances.  Our superintendent, Dr. Viramontez, shared with all of us an update on our current Phase 2 reopening plans, and I think this information will help our community cement the understanding of our district plans.   Santa Clara County is back in the COVID-19 purple tier.  We cannot start to reopen schools in Phase 2 until we are out of the purple tier and into the red tier for two weeks.  Will this happen in time for a Phase 2 reopening on January 4th?  No one knows for certain, but rest assured that if we are able to reopen, you will be informed even if it is over our two week December break.  For now, we will continue putting the finishing touches on our school plans so that we will be prepared for whenever we reopen.
We will also continue with as many "normal" school activities as possible; for example, our Home and School Club is sponsoring our virtual Hicklebee's book fair. Please look at the article here on the webpage for the details.  I know that I will be doing some shopping of my own!  
Also in the "same but different" category are our report cards.  The same: students will receive report cards.  The different: parents will access them online through PowerSchool.  We are sharing the information you need to make sure you have an account and can access the information. 
Thank you for working with us to continue making distance learning as successful for our children as possible. I am thankful every day to be part of this special community. Please have a safe and restful Thanksgiving.
~Kristen